For all activities performed in facilities not owned by the institution and to which rent is directly allocated to the project(s) the off campus rate applies. If more than 50% of a project is performed off-campus, the off-campus rate will apply to the entire project. You must identify whether the project is: Research, Instruction, or Other Sponsored Activity and choose the rate for the associated campus. Our F & A Rate Agreement contains the negotiated rate, which is summarized below.  You may also read the letter from our Cognizant Agency.  
Facilities & Administrative (F&A) Costs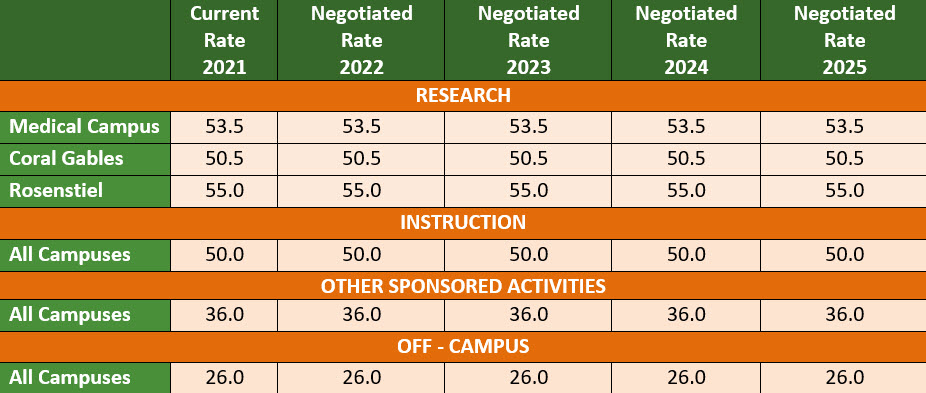 Note: facilities & administrative (F & A) costs were formerly known as indirect costs.
F&A Distribution Guidelines for Inter-school Research
The following policy pertains to F&A guidelines for research projects that include more than one school/campus. Policy: F&A Distribution Guidelines for Inter-school Research
F&A Moratorium
The following F&A Moratorium message is effective 8-2-2017. It does not impact proposals/contracts utilizing:
Sponsor-published rates

UM federally negotiated rates

Industry funded clinical trials - 29% F&A
F&A Waiver Requests must be submitted to ORA at least 15 days prior to the deadline.